Loading... Please wait...
Product Description
UNIDUS "LONG LOVE" Condom SEX CLIMAX Delaying Benzocaine Condoms 3 Condom each Box.
UNIDUS Long Love with Genital Desensitizer Lubricated Latex Condom Pack.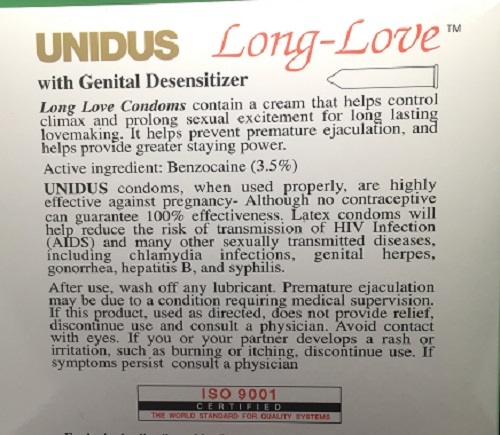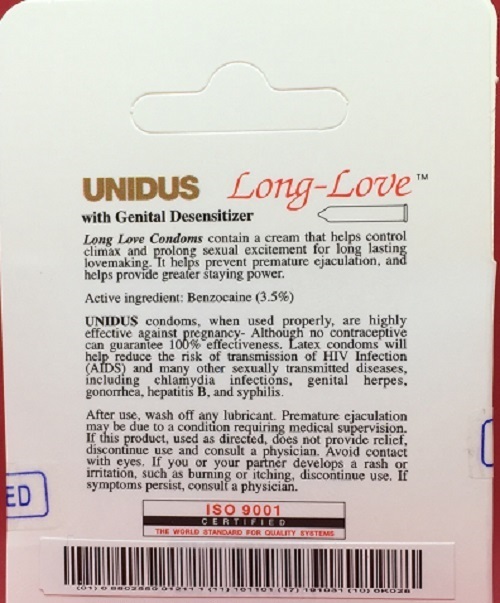 Made in Korea
UNIDUS Long Love Condom contains a special climax control cream that helps prolong sexual excitement and aid in the prevention of premature ejaculation by the use of a body heat-activated desensitizing lube inside the condom but your partner won't be adversely affected while you making a long impression.
* Overall Length: more than 170mm
* Width: 51 - 55mm
* Thickness: 0.03 - 0.09mm
* Odorless / Transparent / Expires in 3 years from the manufactured date / Contains 3.5% of Benzocaine
Customers Who Viewed This Product Also Viewed
"WARNING: Some Products Contains Nicotine which is an addictive chemical. Must be 18 to purchase."

The products and the claims made about specific products on or through this site have not

been evaluated by wholesaleonline1.com or the FDA. They are not approved to diagnose,

treat, cure or prevent disease. The information provided on this site is for informational

purposes only and is not intended as a substitute for advice from your physician or

other health care professional or any information contained on or in any product label

or packaging. You should not use the information on this site for diagnosis or treatment

of any health problem or for prescription of any medication or other treatment. You should

consult with a healthcare professional before starting any diet, exercise or supplementation

program, before taking any medication, or if you have or suspect you might have a health problem.




All prices are in USD. Copyright 2019 WHOLESALEONLINE1. Sitemap | Shopping Cart Software by BigCommerce


Copy